MSPY: EASY TO USE MOBILE SPYING APP
Mobile phone tracking and monitoring is among the latest development in the phone industry which has grown in popularity at lightning speed.
mSpy is one of the leading smart phones monitoring
software currently available in the market of spyware applications. It carries the most advanced updates about superior means of staying on track about necessary activities your children or employees are involved with. Here is a closer look at its specific features. This kind of application allows owners to have the greatest peace of mind since it delivers nothing but the truth about what exactly is going on in the life of your target device user.
MSPY FEATURES
1. Call Logs. View entire call history to check who called and how often.
2. Incoming calls restriction. Block incoming calls from any number.
3. SMS tracking. Monitor ALL text messages received or sent by your target. Spy on text messages with mSpy.
4. GPS location tracking. Locate and monitor movements of any device! Real time GPS tracking, with a convenient map to show the route.
5. Keylogger. Read everything your target user taps on the mobile device.
6. Calendar. Monitor all calendar activities, planned meetings and memos.
7. Email tracking. Monitor the content of all incoming and outgoing emails.
8. Internet usage tracking. Check browsing history and website bookmarks.
9. Instant messages. Use this app as a Skype spy, WhatsApp spy, iMessage spy, Viber spy,  and Facebook spy.
10. Monitor Internet usage: browsing history, website bookmarks, blocks websites
11. Blocking installed apps. See the list of all applications installed on the target device and block any of them.   
12. Contacts. View the list of contacts on the target device and find out who they communicate with.               
13. Remote control. Get remote control over a device with installed mSpy: such features as device wipeout, remote device blocking will be under your control!
14. Stealth! mSpy does not use SMS commands that may appear on the target phone, ensuring secrecy of your monitoring.
15. Convenient! mSpy supports major operating systems: Android, iPhone, and BlackBerry.
MSPY APPLICATION AREAS

Parenting. This product helps the parents keep track of their children's movements and activities over their cell phones.
Business. Employers can make use of this wonderful app to supervise their employees when they are not immediately around.
CROSS-PLATFORM COMPATIBILITY
mSpy works on a wide range of platforms, including leading
smartphone brands and operating systems. Remember that the smartphone or tablet which you intend to spy on must have access to the internet for the software to run smoothly. The following are the operating systems compatible with mSpy: iOS, Android, and BlackBerry.
PRICE
The cost of mSpy software depends on the length of time you intend to use the service. If you prioritize the quality of the service you can get, then this software will definitely prove as a worthy purchase. mSpy Basic for mobile monitoring costs $39.99 per month and $59.99 per 3 months. mSpy Premium has more subscription options:  $69.99 for 1 month, $119.99 for 3 months,  $149.99 for 6 months, and $199.99 for 12 months. Need to monitor both a smartphone and a computer? Then you can save by purchasing mSpy monitoring bundle (they've recently released their desktop version).
CUSTOMER SUPPORT
mSpy offers technical support to any potential issues which customers may experience 24 hours a day, 7 days a week. They can be readily reached at support@mspy.com. You can expect a quick, prompt and sound response. They can
also be reached through their toll FREE numbers and Live Chat support. You also have an option to create your own trouble ticket directly on their website.
INSTALLATION PROCESS
mSpy should only be installed on the target phone (the device you are going to monitor). Installation should be direct (with physical access) and will usually depend on the operating system which the smart phone is running. Immediately after the purchase, you will receive an email containing relevant instructions for installation and set-up.
Overall, the mSpy spyware is a reliable smartphone monitoring application which delivers an outstanding tracking service for you. It will definitely empower you will all the features needed to reveal the truth you seek at a reasonable cost. If you are in dire need of monitoring someone really important to you, then mSpy is a must for you.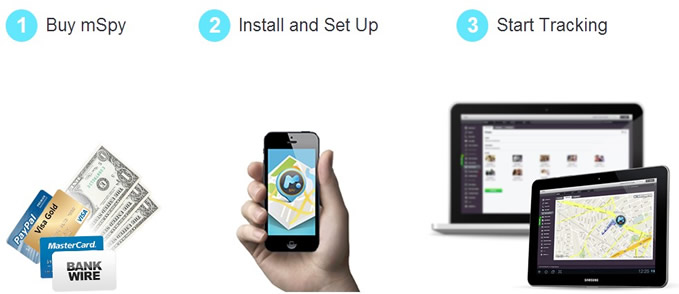 MSPY ADVANTAGES
– It offers a great value for your money
– It uses the most advanced mobile phone spy technology.
– It's a highly user-friendly app that allows utter convenience even to first-time users of this kind of software.
– Security of information is guaranteed since the company does not record, store, transmit and resell any personal information of their customers.
– All activity logs are encrypted as confidential, ensuring no unauthorized leaking of information.
– The spying will definitely remain unnoticed by the target phone's user.
Tags:
mspy обзор
ispyoo
mspy reviews
free apps for android
spy text easy installation reviews